Several containers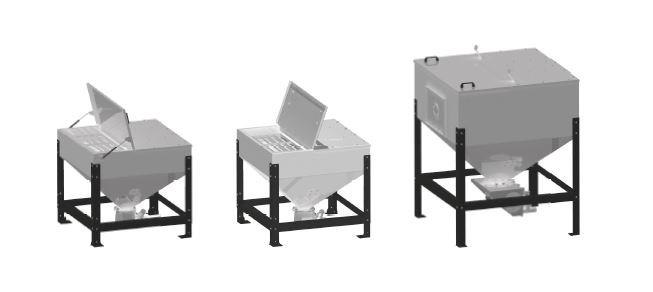 Technical information
Containers come in all sizes and shapes. We have a detailed brochure that outline a clear picture of the various possible applications.
The illustration shows a container in aluminum on a painted steel frame that is stackable and is provided with forklift slots. The container has a top cover in two parts. On the welded part a flange is provided for the loading by an aspirator. Under the hinged lid a grid in stainless steel is located for bag unloading. The outlet of the container includes a suction box and an emptying function.
Containers exist in round, rectangular and square shapes. They are conducted in nylon, aluminum or stainless steel.
They are used as a side container for an additive, as bag loading containers or larger intermediate containers. Containers can be fitted with full and empty detectors and can be included in a total logistics management via eg a supervisor system.